We live in a fast-paced and stress-filled society, and it's nearly impossible to avoid some stress from time to time. What better time than Stress Awareness Month to talk about all the ways you can relieve stress naturally.
We all feel that surge of nervous energy rise within us from time to time. An avoided car accident, a scary phone call about your child, or a pending deadline at work.
Stress can be dangerous to our health both mentally and physically so it's important to try and include some natural stress relieving herbs and teas in your diet.
What causes stress?
Our bodies produce a stress hormone in the central nervous system called cortisol that is responsible for our fight-or-flight response. The adrenal glands in our bodies release this hormone into our bloodstream. It supplies our bodies with immediate energy that goes straight to our muscles and allows us to do things we wouldn't normally have the energy to do.
The problem is when this happens to our bodies all the time. Your body should not be in a constant state of stress because it can cause some problems internally. Not only that, but it does not feel good to be stressed out all the time.
Luckily for us, there are some natural remedies that can help our bodies ease back to normalcy.
Kava Root– Researchers describe Kava Root as being perhaps the best herb to ease stress and anxiety. What makes it different from other anxiety supplements is that it doesn't only affect the symptoms that cause anxiety. It also aids with anxious thoughts, restlessness, sleeplessness, and other stress-related symptoms. It is best used in capsule form or as an ingredient in a tea blend.
Lemon Balm– This perennial herb from the mint family has some great stress relieving qualities! Various research studies have shown that lemon balm provides great support for anxiety sufferers. The phytochemicals in lemon balm provide anti-inflammatory, antibacterial, and immune-boosting effects. It is loaded with antioxidants that protect cells from free radical damage. It has been used for centuries to reduce stress, promote sleep, and ease pain from indigestion. Lemon balm can be used in aromatherapy blends or taken in capsule form.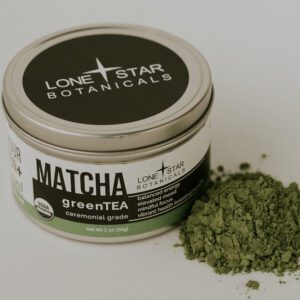 Theanine– Did you know that your green tea and matcha powder contains a property that aids in stress relief? Once theanine is consumed it crosses the blood-brain barrier allowing it to quickly reach your brain cells. Studies have discovered theanine's ability to support brain health, promote calmness, and boost your cognitive function overall.
Valerian Root– Valerian herbs have been used across the world to help anxiety and insomnia and it is known to relax the body and quiet the mind. It calms the central nervous system, minimizes muscle spasms, and eases insomnia. These effects can reduce anxiety, lower blood pressure, and fight depression. Valerian can be taken in capsules or in an herbal tea blend!
Chamomile Flowers– Chamomile displays a wide range of therapeutic powers. It is anti-inflammatory, antibacterial, antifungal, antiseptic, and antispasmodic. Best known for its soothing effects, chamomile calms the nervous system and digestive tract, relaxes muscles, and relieves discomfort associated with skin irritations. As a tea, this is the perfect addition to your nighttime routine, as it promotes a restful night's sleep.
Conclusion
There are even more natural remedies for stress and anxiety but we wanted to highlight some of our most favorites that we know will help you! Happy Stress Awareness Month everyone, and we hope you stay happy and healthy. Shine on, ya'll!